Posts for tag: veneers
By Promenade Complete Dental
June 24, 2021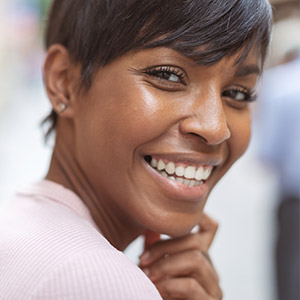 Dental veneers are a popular way to improve teeth with chips, stains, gaps or other defects. They're typically made of dental porcelain, ceramic-like materials prized for their ability to mimic the texture, color and translucency of natural teeth.
But dental porcelain doesn't come in one form—a dentist can utilize variations of it to better match a patient's need. For example, one patient may need a porcelain with added strength, while another may need one that provides better coverage of underlying discoloration.
The foundational materials for veneer porcelain are glass ceramics. Also used for crowns, glass ceramics have been the preferred choice of dentists for some time to achieve life-like results. In terms of veneers, dental technicians first mix the powdered form of the porcelain with water to create a paste. They then use the paste to build up the body of a veneer layer by layer.
But while the high degree of silica (glass) in this type of porcelain best resembles the translucence of natural teeth, early forms of it lacked strength. This changed in the 1990s when technicians began adding a material called leucite to the ceramic mixture that enhanced its strength and durability.
Today, you'll also find lithium disilicate used, which is twice as strong as leucite and is quite useful when creating thinner veneers. Both of these strength materials can be pressed and milled into shape, which helps achieve a more accurate fit. Along with the underlying glass ceramic, the result is a veneer that's both durable and incredibly life-like.
Although today's porcelain veneers are far superior in durability than earlier forms, they can be damaged when biting down on hard objects. To make sure your veneers last as long as possible, you should avoid biting down directly on hard-skinned fruit, or using your veneered teeth to crack nuts or crunch ice (or any other teeth, for that matter).
But with proper care, today's veneers have exceptional longevity. And, thanks to the superior dental materials that compose them, they'll look great for years.
If you would like more information on dental veneers, please contact us or schedule an appointment for a consultation. You can also learn more about this topic by reading the Dear Doctor magazine article "Porcelain Veneers: Your Smile—Better Than Ever."
By Promenade Complete Dental
September 16, 2020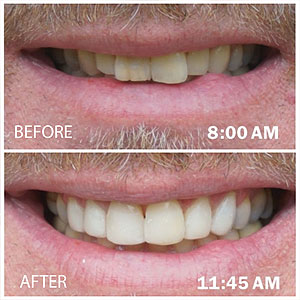 Orthodontics, veneers and other cosmetic dental techniques can turn a less than perfect smile into a beautiful one—but not always very quickly. For example, porcelain veneers can take weeks from planning to installation, including the meticulous work of an outside dental lab to produce veneers that look natural as well as beautiful.
But you may be able to take advantage of another approach, one that often takes no more than a couple of dental visits. Called direct veneers, it's actually a process of bonding and sculpting life-like composite materials to teeth that are heavily stained, chipped or that contain tiny crevices called "craze lines."
Unlike the similarly-named traditional method, direct veneers don't involve the creation of layered porcelain veneers fashioned by a dental lab. But this newer process is similar to the older one in that some of the enamel must be removed from the teeth in question to provide a suitable surface for the composite material to adhere. This alteration will be permanent, requiring a restorative covering on the treated teeth from then on.
Right before this preparation, though, a dentist typically makes an impression of the patient's mouth. This will be the basis for creating the procedural plan for the dental work, particularly a "trial smile" from similar composite material that can be applied to the patient's teeth before actual restoration work begins. This temporary application gives both patient and dentist an opportunity to visualize the final look, and make needed adjustments in color and shaping.
Once the work plan is finalized, the patient then returns for the actual restoration procedure. The dentist begins by applying and bonding the composite material to the prepared teeth. Then, using a drill and manual instruments, the dentist shapes and smooths the material into a tooth-like appearance that blends with other teeth. The procedure can take a few hours, but it can usually be completed during a single visit.
Although direct veneers may not last as long as porcelain veneers, the process is less costly and requires less time to complete. Direct veneers could be an economical solution for achieving a more attractive smile.
If you would like more information on direct veneers, please contact us or schedule an appointment for a consultation. You can also learn more about this topic with a firsthand patient account by reading the Dear Doctor magazine article "A New Smile With Direct Veneers."
By Promenade Complete Dental
December 21, 2019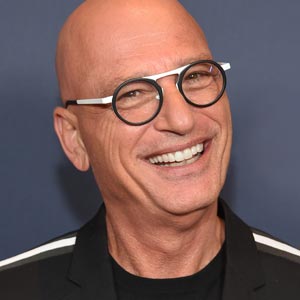 You probably wouldn't be surprised to hear that someone playing hockey, racing motocross or duking it out in an ultimate fighter match had a tooth knocked out. But acting in a movie? That's exactly what happened to Howie Mandel, well-known comedian and host of TV's America's Got Talent and Deal or No Deal. And not just any tooth, but one of his upper front teeth—with the other one heavily damaged in the process.
The accident occurred during the 1987 filming of Walk Like a Man in which Mandel played a young man raised by wolves. In one scene, a co-star was supposed to yank a bone from Howie's mouth. The actor, however, pulled the bone a second too early while Howie still had it clamped between his teeth. Mandel says you can see the tooth fly out of his mouth in the movie.
But trooper that he is, Mandel immediately had two crowns placed to restore the damaged teeth and went back to filming. The restoration was a good one, and all was well with his smile for the next few decades.
Until, that is, he began to notice a peculiar discoloration pattern. Years of coffee drinking had stained his other natural teeth, but not the two prosthetic ("false") crowns in the middle of his smile. The two crowns, bright as ever, stuck out prominently from the rest of his teeth, giving him a distinctive look: "I looked like Bugs Bunny," Mandel told Dear Doctor—Dentistry & Oral Health magazine.
His dentist, though, had a solution: dental veneers. These thin wafers of porcelain are bonded to the front of teeth to mask slight imperfections like chipping, gaps or discoloration. Veneers are popular way to get an updated and more attractive smile. Each veneer is custom-shaped and color-matched to the individual tooth so that it blends seamlessly with the rest of the teeth.
One caveat, though: most veneers can look bulky if placed directly on the teeth. To accommodate this, traditional veneers require that some of the enamel be removed from your tooth so that the veneer does not add bulk when it is placed over the front-facing side of your tooth. This permanently alters the tooth and requires it have a restoration from then on.
In many instances, however, a "minimal prep" or "no-prep" veneer may be possible, where, as the names suggest, very little or even none of the tooth's surface needs to be reduced before the veneer is placed. The type of veneer that is recommended for you will depend on the condition of your enamel and the particular flaw you wish to correct.
Many dental patients opt for veneers because they can be used in a variety of cosmetic situations, including upgrades to previous dental work as Howie Mandel experienced. So if slight imperfections are putting a damper on your smile, veneers could be the answer.
If you would like more information about veneers and other cosmetic dental enhancements, please contact us or schedule a consultation. To learn more, read the Dear Doctor magazine articles "Porcelain Veneers" and "Porcelain Dental Crowns."