Posts for tag: partial denture
By Promenade Complete Dental
November 26, 2020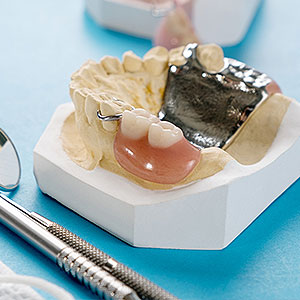 Before implants, people often turned to a removable appliance to replace multiple missing teeth. Known as a removable partial denture (RPD), this appliance could restore both appearance and function at an affordable price.
But although implants may have diminished their use, RPDs haven't gone extinct. They're still a viable option for patients who can't afford implants or fixed bridgework, or who can't obtain implants due to the state of their dental health.
Although replacing only a few teeth rather than an entire arch, RPDs are similar in basic concept to full dentures. The prosthetic (artificial) teeth are anchored in a resin or plastic that's colored to resemble the gums, precisely placed to fit into the missing gaps. This assembly is further supported by a frame made of vitallium, a lightweight but strong metal alloy. The appliance fits upon the arch with the missing teeth, supported by vitallium clasps that grip adjacent natural teeth.
Each RPD must be custom designed for each patient to fit perfectly without excessive movement during chewing. Too much movement could warp the fit, reduce the RPD's durability or damage other teeth. To achieve this secure fit, dentists must take into account the number and location of missing teeth to be replaced, and then apply a specific construction pattern to balance the appliance.
There are RPDs that are meant to be used short-term, as with a teenager whose jaw isn't yet mature for dental implants. But the metal-framed RPDs we've described are designed for long-term use. There is, however, one primary downside: RPDs have a propensity to collect dental plaque, a thin biofilm most responsible for dental disease that could further deteriorate your dental health.
To avoid this, you'll need to keep both the RPD and the rest of your teeth and gums as clean as possible with daily brushing and flossing, and appliance care. And like dentures, it's best to remove the RPD when you go to bed at night to discourage the growth of harmful bacteria.
To see if an RPD to replace your missing teeth is an option for you, visit us for a complete dental exam. From there, we can advise you further as to whether an RPD could affordably restore your missing teeth and your smile.
If you would like more information on RPDs, please contact us or schedule an appointment for a consultation. You can also learn more about this topic by reading the Dear Doctor magazine article "Removable Partial Dentures."
By Promenade Complete Dental
August 18, 2018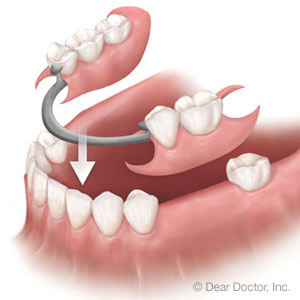 We've come a long way in our ability to restore missing teeth. Today's top choice is dental implants, prized not only for their close resemblance to real teeth but also their durability.
The rise of implants, though, hasn't put older restorative methods out to pasture—many continue to offer patients a viable and affordable choice for tooth replacement. One example is the removable partial denture (RPD).
Once quite common, RPDs' popularity has only slightly diminished with the advent of implants. They're a fair option in terms of dental function and appearance, and much less expensive than implants or fixed bridges.
Similar to a full denture—a removable appliance that replaces all the teeth on a dental arch—a RPD can replace multiple missing teeth in a variety of configurations. A traditional RPD is usually constructed of vitallium, a lightweight but strong metal alloy, which allows for a very thin and comfortable frame. It's covered in a gum-colored resin or plastic with prosthetic (false) teeth precisely set at the missing teeth's locations. The appliance stays in place through a series of clasps that attach to the remaining teeth.
 Each RPD is custom-made to fit a patient's mouth contours and the locations and patterns of the missing teeth. The top design goal for each individual RPD is to minimize any rocking movement during chewing; achieving that goal will depend not only on how many teeth are missing and where, but also what type of teeth are being replaced. For example, teeth missing from the back would require a different support design than teeth missing from the side or front.
RPDs' biggest benefits are comfortable fit, effective dental function and good appearance. However, their means of attachment can create difficulties keeping remaining teeth clean of disease-causing bacterial plaque. Furthermore, an ill-fitting or unstable RPD could damage or even loosen natural teeth. It's therefore essential for wearers to diligently practice daily hygiene (including cleaning the RPD) and undergo regular fit monitoring with their dentist.
Even with these constraints, a RPD can do an acceptable job providing dental function. What's more, it can definitely improve your smile.
If you would like more information on options for dental restoration, please contact us or schedule an appointment for a consultation. You can also learn more about this topic by reading the Dear Doctor magazine article "Removable Partial Dentures: Still a Viable Tooth-Replacement Alternative."
By Promenade Complete Dental
February 01, 2018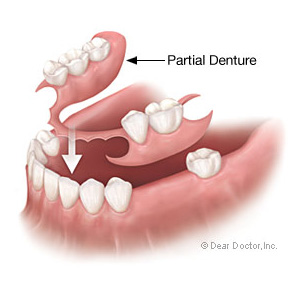 Dental implants are today's preferred choice for replacing missing teeth. They're the closest restoration to natural teeth—but at a price, especially for multiple teeth. If implants are beyond your current financial ability, there's an older, more affordable option: a removable partial denture (RPD).
Similar in concept to a full denture, a RPD replaces one or more missing teeth on a jaw. It usually consists of a lightweight but sturdy metal frame supporting a resin or plastic base (colored pink to mimic gum tissue). Prosthetic (false) teeth are attached to the base at the locations of the missing teeth. Unlike transitional dentures, RPDs are designed to last for many years.
Although simple in concept, RPDs certainly aren't a "one-size-fits-all" option. To achieve long-term success with an RPD we must first consider the number of missing teeth and where they're located in the jaw. This will dictate the type of layout and construction needed to create a custom RPD.
In addition, we'll need to consider the health and condition of your remaining teeth. This can be important to an RPD's design, especially if we intend to use them to support the RPD during wear. Support is a fundamental concern because we want to prevent the RPD from excessively moving in place.
Besides dental support we'll also need to take into account how the jaws function when they bite. The RPD's design should evenly distribute the forces generated when you eat and chew so as not to create undue pressure on the bony ridges of the jaw upon which the RPD rests. Too much pressure could accelerate bone loss in the jaw, a common issue with dentures.
It takes a lot of planning to create a comfortably-fitting RPD with minimal impact on your dental health. But you'll also have to maintain it to ensure lasting durability. You should clean your RPD daily, as well as brush and floss the rest of your teeth to minimize the chances of developing tooth decay or periodontal (gum) disease. You can further discourage disease-causing bacterial growth by removing them at night while you sleep.
A RPD can be a viable alternative to more expensive restorations. And with the right design and proper care it could serve you and your smile for a long time to come.
If you would like more information on removable partial dentures, please contact us or schedule an appointment for a consultation. You can also learn more about this topic by reading the Dear Doctor magazine article "Removable Partial Dentures."