Posts for: June, 2021
By Promenade Complete Dental
June 14, 2021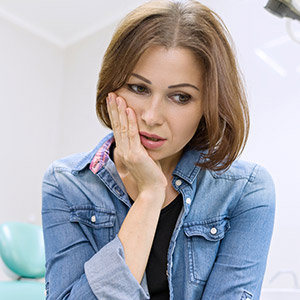 There's still much about the underlying nature of chronic jaw joint dysfunction we have yet to unravel. Treating these conditions known as temporomandibular joint disorders (TMDs) may therefore require some experimentation to find what works for each individual patient.
Most TMD therapies are relatively conservative: eating softer foods, taking anti-inflammatory pain relievers or undergoing physical therapy. There have been some surgical techniques tried to relieve jaw pain and dysfunction, but these have so far had mixed results.
Recently, the use of the drug Botox has been promoted for relieving jaw pain, albeit temporarily. Botox contains tiny amounts of botulinum toxin type A, a poisonous substance derived from the bacterium Clostridium botulinum, which can cause muscle paralysis. It's mainly used to cosmetically smooth out small wrinkles around facial features.
Because of these properties, some physicians have proposed Botox for TMD treatment to paralyze the muscles around the jaw to reduce pain and discomfort. While the treatment sounds intriguing, there are a number of reasons to be wary of it if you have TMD.
To begin with, the claims for Botox's success in relieving jaw pain have been mainly anecdotal. On the other hand, findings from randomized, double-blind trials have yet to show any solid evidence that Botox can produce these pain-relieving effects.
But even if it lived up to the claims of TMD pain relief, the effect would eventually fade in a few weeks or months, requiring the patient to repeat the injections. It's possible with multiple Botox injections that the body will develop antibodies to fight the botulinum toxin, causing the treatment to be less effective with subsequent injections.
Of even greater concern are the potential side effects of Botox TMD treatment, ranging from headaches and soreness at the injection site to more serious muscle atrophy and possible facial deformity from repeated injections. There's also evidence for decreased bone density in the jaw, which could have far-reaching consequences for someone with TMD.
The best approach still seems to lie in the more conservative therapies that treat TMD similar to other joint disorders. Finding the right combination of therapies that most benefit you will help you better manage your symptoms.
If you would like more information on treatments for TMD, please contact us or schedule an appointment for a consultation. You can also learn more about this topic by reading the Dear Doctor magazine article "Botox Treatment for TMJ Pain."
By Promenade Complete Dental
June 04, 2021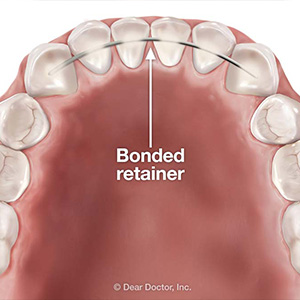 For some, the excitement over their braces coming off gets dampened a bit with the prospect of now having to wear a retainer. But it has to be—newly realigned teeth have a tendency to revert to their previous positions out of a kind of "muscle memory." A retainer prevents that from happening.
But as essential as it is, the standard retainer is almost as noticeable as braces, a major reason why many patients are less than enthusiastic about wearing them. And, because it's common for them to become lost when out of the mouth, replacing one becomes an added expense.
But there's another option—the bonded retainer. This retainer consists of a metal wire bonded to the back of the teeth to prevent them from moving. Because it's fixed in place, only a dentist can remove it.
The bonded retainer addresses the previous two issues associated with a removable retainer. Because it's behind the teeth rather than in front, it's out of sight to others. And, because it's fixed in place, there's no danger of losing it.
But unlike its removable cousin, which can be taken out for oral hygiene, the bonded retainer can make flossing more difficult. And, by nature, a bonded retainer must be worn all the time; a removable retainer allows for a more flexible schedule later in the treatment of a few hours a day.
So, which retainer option is best for you or another family member? A bonded retainer may be more attractive for appearance's sake, if it must be worn indefinitely, or if there's a high probability of the teeth moving out of alignment. And, it might be the right choice where there's a concern about a patient's ability to keep up with a removable retainer.
If you do decide to go with a bonded retainer, ask your dental hygienist for training on using floss with the fixed appliance—this can help improve oral hygiene. Whatever you choose, bonded or removable, your retainer will help you keep that new, beautiful, straightened smile.
If you would like more information on orthodontic retainers, please contact us or schedule an appointment for a consultation. You can also learn more about this topic by reading the Dear Doctor magazine article "Bonded Retainers."