Posts for tag: root canal treatment
By Promenade Complete Dental
July 09, 2018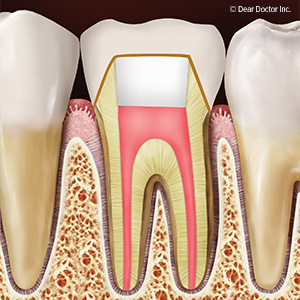 Along with periodontal (gum) disease, tooth decay poses one of the two greatest threats to your teeth. Cavities are just the start: if decay invades the pulp, the tooth's innermost layer, the infection created can continue to advance through the root canals to the supporting bone. This worst case scenario could cost you your tooth.
But we can stop this advanced decay in its tracks with a procedure called a root canal treatment. A root canal essentially removes all the infected tissue within the tooth and then seals it from further infection. And contrary to its undeserved reputation for being painful, a root canal can actually stop the severe tooth pain that decay can cause.
At the beginning of the procedure, we deaden the affected tooth and surrounding tissues with local anesthesia—you'll be awake and alert, but without pain. We then isolate the tooth with a dental dam of thin rubber or vinyl to create a sterile environment around it to minimize contamination from bacteria found in saliva and the rest of the mouth.
We then drill a small hole through the enamel and dentin to access the interior of the tooth. With special instruments, we remove and clean out all the diseased or dead tissue in the pulp chamber and root canals. After disinfecting the empty spaces with an antibacterial solution, we'll shape the root canals to make it easier to perform the next step of placing the filling.
To fill all the root canals and pulp chamber, we typically use a rubber-like material called gutta-percha. Because it's thermoplastic ("thermo"—heat; "plastic"—to shape), we can compress it into and against the walls of the root canals in a heated state to fully seal them. This is crucial for preventing the empty tooth interior from becoming re-infected. Afterward, we'll seal the access hole with its own filling; later, we'll bond a permanent crown to the tooth for additional protection and cosmetic enhancement.
After the procedure you may have some temporary minor discomfort usually manageable with aspirin or ibuprofen, but your nagging toothache will be gone. More importantly, your tooth will have a second chance—and your dental health and smile will be the better for it.
If you would like more information on treating tooth decay, please contact us or schedule an appointment for a consultation. You can also learn more about this topic by reading the Dear Doctor magazine article "A Step-By-Step Guide to Root Canal Treatment."
By Promenade Complete Dental
October 26, 2017
If you're undergoing your first root canal treatment, it's understandable if you're apprehensive. So, let's cut to the chase about your biggest fear: a root canal treatment doesn't cause pain, it relieves it — and saves your tooth too.
You need this procedure because decay has spread deep into your tooth's inner pulp. The infection has already attacked the nerves bundled within the pulp chamber, the source of the pain that led you to us in the first place.
The real concern, though, is the infection continuing to travel through the canals of the tooth root. If that happens, you're in danger of not only losing the tooth, but also losing surrounding bone, adjacent teeth or damaging other important structures close by. Our goal is simple: remove the infected pulp tissue and seal the empty chamber and root canals from further infection with a special filling.
We begin by numbing the tooth with local anesthesia — you won't feel anything but slight pressure as we work. After placing a dental dam — a thin sheet of rubber or vinyl — around the affected tooth to maintain a clean work area, we drill a small hole through the biting surface of a back tooth or in the rear surface of a front tooth. We'll use this hole to access the pulp, where we'll first remove all the dead and diseased tissue from the chamber. We'll then disinfect the chamber and root canals with antiseptic and antibacterial solutions.
After some shaping, we'll fill the chamber and canals, usually with gutta-percha that's malleable when heated and can be compressed into and against the walls of the root canals to completely seal them. We'll then seal the access hole.
You may have a few days of mild discomfort afterward, which can be managed generally with pain relievers like aspirin or ibuprofen. Later, we'll permanently restore the tooth using filling to seal the root canal inside the tooth followed by a custom crown that's fit over and bonded to the tooth. This will further minimize chances of a re-infection.
If we've recommended a root canal, then we think your tooth should be saved instead of extracted. The procedure will end the pain you've been suffering and give your tooth a new lease on life.
If you would like more information on root canal treatment, please contact us or schedule an appointment for a consultation. You can also learn more about this topic by reading the Dear Doctor magazine article "A Step-By-Step Guide to Root Canal Treatment."
By Promenade Complete Dental
April 28, 2017
As in other parts of medicine, lasers are beginning to change the way we provide dental care. More and more dentists are using lasers to make earlier diagnoses of dental disease or provide surgical treatment. One area prime for change is the treatment of teeth with deep decay and in danger of being lost.
For decades now, the best way to save teeth in this condition is with root canal treatment. In this common procedure we access the pulp, remove the infected tissue with specialized hand instruments, and then fill and seal the pulp chamber and root canals with a special filling.
We can now potentially improve the efficiency and increase the success rate of this treatment with laser technology. With their focused light, lasers emit a concentrated burst of energy that's extremely precise. In many instances laser energy can remove the target diseased tissue without damaging nearby healthy tissue.
In this form of root canal treatment, we use lasers to remove tissue and organic debris within the pulp and then shape the root canal walls to better receive the filling. We can also utilize the heat from laser energy to soften and mold the filling, so that it better conforms within the walls of the root canals.
Using lasers in root canal treatments may require less local anesthesia than the traditional approach and also eliminates disturbing or discomforting sounds and vibrations. Dentists who've used the new technology also report less bleeding during the procedure and less pain and occurrences of infection afterwards.
But there are a couple of disadvantages for using lasers in root canal treatment. For one, light travels in a straight line — and many root canal networks are anything but straight. More complex root canal networks may still require the traditional approach. Laser energy could also increase the tooth's inner temperature, which could potentially damage tissues even on the tooth's outer surfaces.
Used in the right circumstances, though, lasers can be an effective means to treat diseased teeth. Â As laser technology continues to advance and becomes a mainstay in dental care, you may soon find it part of your next dental procedure.
If you would like more information on root canal treatments, please contact us or schedule an appointment for a consultation.