Posts for tag: dental implants
By Promenade Complete Dental
January 15, 2019
People have depended on dentures for generations—and they still do. That's because they work, both in restoring dental function and a smile marred by missing teeth.
But they have one major drawback related to bone health. That's because living bone has a life cycle: as older cells die, new ones form to take their place. The pressure generated when we chew stimulates this growth. But when this stimulus goes missing along with the teeth, the cell replacement rate slows and bone volume and density gradually diminishes.
Traditional dentures can't transmit this chewing pressure stimulus. And because they rest directly on the gum ridges, they can adversely affect the underlying bone and actually accelerate bone loss.
But implant technology potentially solves this bone loss problem with dentures by using implants rather than the gums to support them. It's a two-fold benefit: first, the implants relieve much of the irritation to the gums and bone caused by traditional dentures. Primarily, though, the implants themselves can slow or even stop continuing bone loss.
Most implants are made of titanium, not only because it's compatible with the body, but also because it has an affinity with bone. Over time bone cells grow on the titanium post imbedded in the jawbone. This process not only creates stability and durability, it can improve bone health.
In recent years dentists have incorporated implants with dentures to create two exciting treatment options. With one option, the dentist installs two or more implants in the jaw, to which a specially fitted removable denture can be attached. You would still have the ease of removing the denture for cleaning, while gaining greater stability and a reduced risk of bone loss.
The other option is a fixed denture (or bridge) attached permanently to implants. For this option, a patient's jawbone must be adequate and healthy enough to support at least four to six implants. A fixed denture is also often costlier and more complex than a removable denture, but it can feel more like real teeth. It also promotes better bone health too.
Although both options are more expensive than traditional dentures, they can pay dividends for long-term dental health. Implants could help you enjoy your new dentures and resulting smile for a long time to come.
If you would like more information on dental implant-supported restorations, please contact us or schedule an appointment for a consultation. You can also learn more about this topic by reading the Dear Doctor magazine article "Overdentures & Fixed Dentures."
By Promenade Complete Dental
May 20, 2018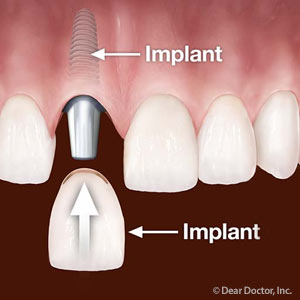 If you have a problem tooth we've recommended removing, those "Tooth in one day" ads—a tooth removed and an implant placed at the same time—might start to pique your interest. But there are a few factors we must consider first to determine if this procedure is right for you. Depending on your mouth's health conditions, you may need to wait a little while between tooth extraction and implantation.
Here are 3 timing scenarios for receiving your implant after tooth removal, depending on your oral health.
Immediately. The "tooth in one day" scenario can be much to your liking, but it could also be tricky in achieving the best results. For one, the implant may fit too loosely—the bone around the socket might first need to heal and fill in or undergo grafting to stimulate regeneration. In other words, immediate implant placement usually requires enough supporting bone and an intact socket. Bone grafting around the implant is usually needed as well.
After gum healing.  Sufficient gum coverage is also necessary for a successful outcome even if the bone appears adequate. To guard against gum shrinkage that could unattractively expose too much of the implant, we may need to delay implant placement for about 4 to 8 weeks to allow sufficient gum healing and sealing of the extraction wound. Allowing the gums to heal can help ensure there's enough gum tissue to cover and protect the implant once it's placed.
After bone healing. As we've implied, implants need an adequate amount of supporting bone for best results. When there isn't enough, we might place a bone graft (often immediately after tooth extraction) that will serve as a scaffold for new bone to grow upon. Depending on the degree of bone loss, we may wait until some of the bone has regenerated (about 2 to 4 months) and then allow the natural process of bone cells growing and adhering to the implant (osseointegration) to complete the needed bone growth. If bone loss is extensive, we may need to wait until full healing in 4 to 6 months to encourage the most stable outcome.
If you would like more information on the process of obtaining dental implants, please contact us or schedule an appointment for a consultation. You can also learn more about this topic by reading the Dear Doctor magazine article "Implant Timelines for Replacing Missing Teeth."
By Promenade Complete Dental
December 06, 2016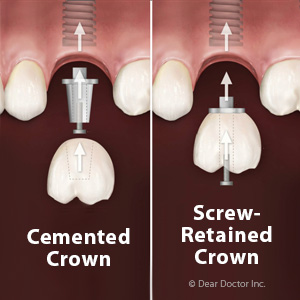 If you've lost a tooth, you have a number of options for replacing it. Perhaps the best choice in terms of lifelikeness and durability is a dental implant.
All implants have the same basic architecture: a titanium metal post imbedded in the jawbone to replace the root; and an abutment, a metal collar that links the post with a lifelike porcelain crown. But implants can vary in how the crown attaches to the abutment and post — either cemented to the abutment or screwed through the abutment to the post.
Either method will permanently secure the crown to the implant. But there are advantages and disadvantages for each.
A screw-retained crown may better facilitate any future repair that might be needed. For a skilled dentist it's a simple matter of removing the screw and then the crown from the abutment. There's less risk of damage to the implant during repairs or crown replacement. Many dentists also prefer screws for crowns placed at the same time they're installing the implant post (a procedure called immediate loading).
The screw access hole, however, could pose a cosmetic problem. Although we can cover it over with tooth-colored filling, it may still be noticeable and unattractive especially for a tooth visible when you smile (in the smile zone). There's also the possibility the porcelain around the access hole could chip.
By contrast, cemented crowns have a smooth, unbroken surface and are aesthetically ideal for smile zone teeth. But the cement could interact poorly with gum and bone tissue in some patients, causing inflammation and possible bone loss.
And unlike screw-retained crowns, cemented crowns are difficult to remove for implant repair. We may have to drill through the crown to access the screw between the abutment and the post, and then repair it cosmetically if we use the same crown. Again, the final result may not be quite as visually appealing.
In the end, it will depend on the implant's location, how your body reacts to the cement or your dentist's preference. In either case, though, you'll have a tooth replacement that's functional, life-like and able to endure for many years to come.
If you would like more information on dental implants, please contact us or schedule an appointment for a consultation. You can also learn more about this topic by reading the Dear Doctor magazine article "How Crowns Attach to Implants."