Posts for: April, 2019
By Promenade Complete Dental
April 15, 2019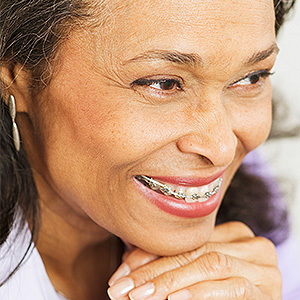 Bite problems are quite common—as many as 75% of adults may have some form of orthodontic issue. Unfortunately, there's also something else just as common: that many people believe they're too old to correct it.
This belief is a myth—while there are factors that could prevent orthodontic treatment, age isn't necessarily one of them. If your teeth, gums and bone are sound and you're in reasonably good general health, you most likely can have a bite problem corrected even beyond middle age.
Why worry about it, though, if you've lived this long with misaligned teeth? For one thing, straightening teeth with braces or clear aligners can boost your dental health. Teeth that are in normal alignment are easier to keep clean of disease-causing bacterial plaque. You'll also find it easier to chew than if your bite is out of line.
A more attractive, straighter smile can also impact your social and professional life. Having a smile you're not embarrassed to show can boost your self-confidence and image. Research on people who've undergone orthodontic treatment in adulthood have found improvements in social connection and even expanded career opportunities.
Orthodontic treatment can make a difference with your health and life, no matter your age. But while the number of years you've lived won't necessarily make a difference, what those years have brought could rule it out.
If, for example, you've lost significant bone structure due to diseases like periodontal (gum) disease, your teeth may not be able to sustain the new position created by braces or aligners without a form of permanent fixation. If you have systemic conditions like severe cardiovascular disease, bleeding problems, leukemia or uncontrolled diabetes, orthodontic treatment could worsen those conditions. And certain prescription drugs may pose similar problems as well.
That's why you'll need to undergo a thorough dental exam, as well as provide a complete medical history to your orthodontist. If nothing prevents you from treatment, though, you may be able to regain a new smile, better health and a new confidence in life.
If you would like more information on adult orthodontics, please contact us or schedule an appointment for a consultation. You can also learn more about this topic by reading the Dear Doctor magazine article "Orthodontics for the Older Adult."
By Promenade Complete Dental
April 05, 2019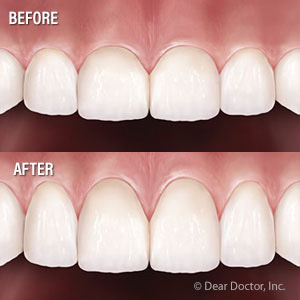 There is a primary principle dentists follow regarding tooth decay—treat it as soon as you find it. Something as simple and routine as filling a cavity could prevent future tooth loss.
But treating a cavity at or below the gum line could be anything but simple and routine. Older adults who may also be dealing with gum recession are more likely to have these kinds of cavities where the gums block clear access to it.
But there is a way to access gum-covered cavities with a minor surgical procedure known as crown lengthening. Crown lengthening is commonly used in cosmetic dentistry to expose more of the visible teeth when there's an overabundance of gum tissue or if the teeth are disproportionately small. We can use it in this instance to surgically relocate the blocking gum tissue out of the way of the cavity.
After numbing the area with local anesthesia, tiny incisions will be made in the gums to create a tissue flap. After reshaping the underlying bone to recreate normal anatomy but at a different level, this flap is then moved and sutured to a new position. This exposes enough tooth structure so that the cavity can be repaired after gum healing.
As with any minor surgery, there's a very slight risk of bleeding and/or infection with crown lengthening. If you undergo this procedure, you'll receive post-care instructions for the first few days afterward including avoiding strenuous activities, eating only soft foods and using an ice pack the day of surgery to help control swelling.
This versatile procedure can help save a tooth that might otherwise be lost due to decay. And, it might even improve your appearance.
If you would like more information on treatment options for tooth decay, please contact us or schedule an appointment for a consultation. You can also learn more about this topic by reading the Dear Doctor magazine article "Crown Lengthening: This Common Surgical Procedure Restores Function and Improves Appearance."